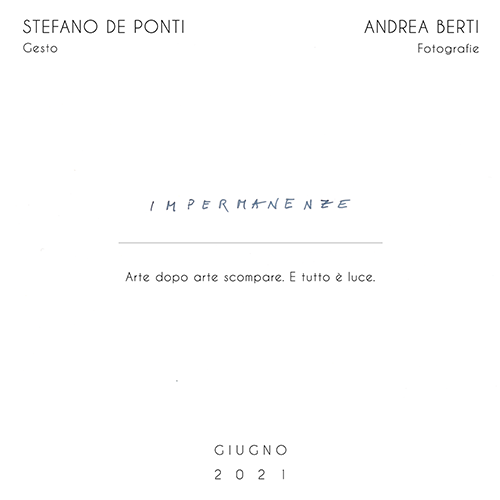 Impermanenze
azioni per polvere di Pietra Serena su carta velina e stampa monocromatica
© Stefano De Ponti – Andrea Berti, maggio 2021
Libreria Alma – Piazza Mazzini 46, Pescia
Impermanenze è una serie in perpetuo divenire per gesti e segni transitori, parte del processo di ricerca La natura delle cose ama celarsi iniziato nel 2019 da Stefano De Ponti. Le opere qui esposte sono accompagnate dagli scatti di Andrea Berti che, come unico spettatore presente al momento della realizzazione, ha documentato la natura effimera del lavoro, innescando a sua volta nuovi possibili sviluppi e spunti interpretativi. Ogni telaio porta con sé un piccolo contenitore con la polvere di Pietra Serena utilizzata per la creazione del segno, frutto del gesto che ha suggerito il titolo. Un invito per chi acquisirà l'opera a proseguire il processo di creazione impermanente.
Un anno in tre minuti
De Ponti / Peluffo
Stefano De Ponti, suono
Lorenzo Peluffo, video
Un anno in tre minuti è un confronto audiovisivo asincrono, illusorio e contratto. A partire dall'organizzazione musicale, realizzata con registrazioni eseguite sul campo (lat. 43.953975, long. 10.7185658 / 509 mt slm) durante un'indagine in due tempi a distanza di un anno (aprile 2020 – marzo 2021), è stato composto un montaggio visivo, derivato dal ricordo trattenuto dopo un unico ascolto del brano e costruito su una selezione di materiale d'archivio recuperato istintivamente in tempo reale. Lavorando specularmente con (e su) i linguaggi, ci siamo aperti a un dialogo poeticamente antitetico, con l'intento di innescare imprevisti, ospitare cortocircuiti e accettare un risultato non del tutto premeditato.
Malgrado col tempo si sfaldi
ecology, memory and impermanence
Eight compositions in perpetual becoming for electro-acoustic ensemble and sound sculptures.
Anitya
Audiovisual composition for resonant voice, tape, electronics, prepared speakers and polymaterial textures.
Official Selection: musicaelettronica.it 2019
musicaelettronica.it
Sinclasi
De Ponti / Moretti
Arrangements of fragments and improvised constructions.
A disruption of the status quo. An elegy to the unfinished.
Recorded at Spazio NUB – Sept 8/9, 2019
Featuring Vojtěch Bárta and Gabriella Denisi
Mastering by Emanuele Magni
Artwork by Sophie Ko
Published by Dinzu Artefacts
Reviews:
Vital Weekly
Onda Rock
Sinclasi
De Ponti / Moretti
Erasure of the contradiction between real and imaginary.
Temporal layers are juxtaposed with different speeds, creating polyphonies of sound spectrums.
The time flux is not regular or linear, it's bent.
Live processing, synth and prepared guitar by ​Stefano De Ponti
Drums, percussions and vibraphone by ​Elia Moretti
Bass clarinet by ​Samuel Angus McGehee
Recorded and mixed at O.F.F. Studio by ​Paul Beauchamp
Additional mixing by ​Stefano De Ponti​ and ​Emanuele Magni
Art by ​Sophie Ko​, ​Geografia Temporlae 2014
Published by Dinzu Artefacts
Reviews:
So What