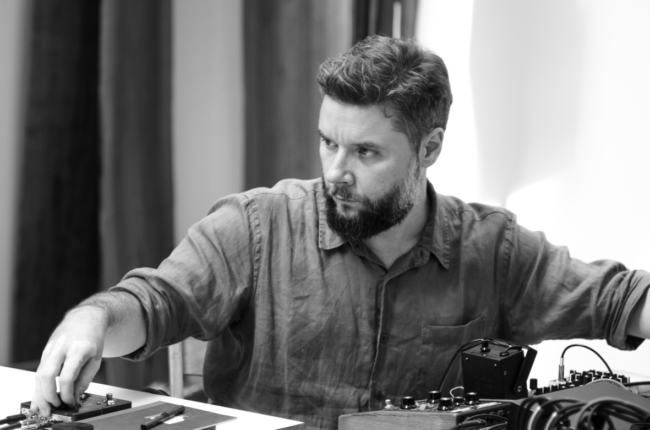 Stefano De Ponti
Nato a Milano nel 1980, dopo gli studi in chitarra classica e musica elettronica presso la Civica Scuola di Musica di Milano, nel 2004 si laurea in Multimedialità all'Accademia di Belle Arti. Segue un master in Documentario presso la Civica Scuola di Cinema di Milano.
Organiser of sounds and images, he uses microphones like a camera, musical instruments like a canvas and photography like words, blurring the boundery between hearing and seeing. Landscape, action, word and materia are some of the basic elements composing his research, developing between performance and radio art, stage music and audiovisual installation, touching upon soundscapes and electroacustic music. In different forms and places he has presented his works in Europe, Russia and Asia.
Attivo nell'ambito dell'insegnamento, affianca al ruolo di docente di Arte e Immagine nelle scuole secondarie di primo grado, workshop e laboratori di drammaturgia sonora e musica per la scena. Paesaggio, azione, parola e materia sono alcuni dei temi alla base della sua ricerca, che si sviluppa tra performance e radio arte, musica per il teatro e installazioni audiovisive, toccando territori vicini al paesaggio sonoro e alla musica elettroacustica.
Issues
Solo
Like Lamps on By Day, Live in Zurich, Good Night My Dear Stone,
Fin​-​d'Ersástz / 20xx – 2016, Calce, Physis
Music for Theatre
Ancient Tears, L'uomo della Sabbia, B-Sogno, Come Tutti Coloro…,
Split and Compilations
Split FAC, Acquainted with passing clouds, Burnt Circuits…
Digital
Innerscape, Live in Basel, Vacuos, Crepe, Apparizione, Venice, Morocco Sketches
Collaborative
My Dear Killer
Labels
Old Bicycle, Under My Bed, Many Feet Under, La Grotta, Kohlhaas, Vacuamoenia, Apparizione, Sonospace, Triple Moon, Setola di Maiale, EEEE, Dinzu Artifacts, Luce Sia
Projects
Present
The Verge of Ruin, De Ponti / Moretti
Previous
DP|N|P, Me And the White Lash, Passo Uno, Trazeroeuno
Present Collaborations
Riserva Canini, Phoebe Zeitgeist
Interviews
Radio Cometa Rossa, Sherwood, Sodapop
Focus
The New Noise, Sonospace
Artist in Residence at
2018 Standards, Milano
2018 Spam!, Lucca
2017 Spazio Kor, Asti
2016 Plum Yard, Malovice CK
2015 FAC Project, St. Ursanne CH
2014 La Rada, Locarno
2013 La Corte Ospitale, Reggio Emilia
2012 Centro di Palmetta, Terni
2012 Theatre Gerard Philipe, Nancy
2011 Teatro Era, Pontedera
Selected Live Performances, Installations and Theatre Replicas
2018
07/06 Festival Giardino delle Esperidi (Il Mio Compleanno)
06/21 Festival Giardino delle Esperidi (Il Mio Compleanno)
06/15 Standards, Milano (The Verge of Ruin)
03/03 Volum E, Milano (The Verge of Ruin)
03/09 to 10 Clan Off, Messina (Malagrazia)
03/15 to 18 TRAM, Napoli (Malagrazia)
03/22 Empoli, (Il Mio Compleanno)
03/24 Parma, (Il Mio Compleanno)
04/06 Sublime Grove, Torino (The Verge of Ruin)
04/07 Teatro Comunale Gustavo Modena, Mori – Rovereto (Malagrazia)
04/27 to 29 Teatro Elfo Puccini, Milano (Malagrazia)
05/04 to 06 Lavoratorio, Firenze (Il Mio Compleanno)
05/13 Teatro La Fornace, Rho (Malagrazia)
05/15 Teatro dei Rinnovati, Siena (Il Mio Compleanno)
05/18 Spazio Quilombo, Prato (Il Mio Compleanno)
06/15 Standards, (The Verge of Ruin)
06/21 Il Giardino delle Esperidi Festival (Il Mio Compleanno)
06/07 Il Giardino delle Esperidi Festival (Il Mio Compleanno)
2017
11/06 Chappaqua / Galleria Più, Bologna
10/20 Contemporanea Acusmatica (Homage to Jean Fouquet)
2016
10/31 Euphorbia, Bologna (De Ponti / Moretti)
10/17 Space Školská 28, Praha (De Ponti / Moretti)
09/14 Audiovisiva, Milano (The Verge of Ruin)
09/03 Varvara Festival, Torino (De Ponti / Moretti)
07/17 Spektrum, Berlin (De Ponti / Moretti)
07/08 Plum Yard festival Malovice (De Ponti / Moretti)
06/16 Festival Gondomar, Porto (Talita Kum)
05/22 Macao, Milano
05/06 Riot, Napoli
04/28 Von Holden Studio, Palermo
02/11 Art, Rotterdam (The Verge of Ruin)
01/23 Acud Macht Neu, Berlin (Sonospace live)
2015
12/04 Spazio Aereo, Venezia (The Verge of Ruin)
08/01 Le Four at Chaux, St. Ursanne (CH)
2014
11/18 Argot Studio, Roma (I bej giorni di Aranujez)
09/27 Analogica Festival #4, Ora Bolzano
09/18 Festival International of Puppets, Sofia (Talita Kum)
05/14 Bad Bonn, Düdingen
05/13 Oslo Ten, Basel
05/10 Scenes Ouvertes à l'Insolite, Paris (Talita Kum)
03/06 Festival International de Izmir (Talita Kum)
2013
09/28 Pierrot Festival, Stara Zagora (Talita Kum)
09/01 World Puppet Carnival, Jakarta (Talita Kum)
05/15 French Cultural Center, Istanbul (Talita Kum)
04/20 Festival Internacional de Titeres, Cali (Talita Kum)
2012
11/06 Elfo Puccini, Milano (L'uomo della Sabbia)
10/30 Theatre Center Na Strastnom, Moscow (L'uomo della Sabbia)
07/13 Festival di Santarcangelo, Ravenna (L'uomo della Sabbia)
2011
10/15 Vie Scena Festival, Modena (L'uomo della Sabbia)
2010
10/03 Sound Metak, Milano (Passo Uno)